Your Donations Help in the Continuity of this Ministry ~ Thank You!
When Israel went out from Egypt,
the house of Jacob from a people of strange language,
Judah became his sanctuary,
Israel his dominion.
The sea looked and fled;
Jordan turned back.
The mountains skipped like rams,
the hills like lambs.
What ails you, O sea, that you flee?
O Jordan, that you turn back?
O mountains, that you skip like rams?
O hills, like lambs?
Tremble, O earth, at the presence of the Lord,
at the presence of the God of Jacob,
who turns the rock into a pool of water,
the flint into a spring of water.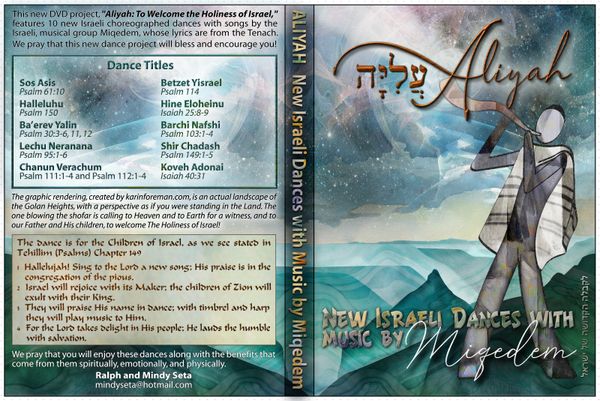 With Your Donation of $25 or Greater in Support of this Ministry
We Would Love to Send You this New DVD (& Download of ten dances) as a Gift ~ Thank You!
[Please include your mailing address]

This project has beginning, intermediate, and advance level dances!
"ALIYAH" TO WELCOME THE HOLINESS OF ISRAEL!
Hello and Shalom!
We believe that we are being called to go into the Messianic and Jewish communities in Israel and abroad with the ministry of worship through dance. The foundation of this ministry has always been to meet the need of the believers and ministers living in the land of Israel with our love, support, and encouragement. Over the past two decades, we have been delivering this message through the vehicle of worshiping through dance with thousands of individuals who share this vision.
Now, with our ties to Israel becoming stronger, we believe it is time to go into and be a light in the Jewish communities at home and abroad. We need your help to accomplish this goal. Aliyah: To Welcome the Holiness of Israel has been developed on our Patreon platform over the past year, with help from ongoing supporters of this ministry. In addition, we are creating new Israeli & Messianic dances each month, and when you join a tier, you will get exclusive access to these new dances every month and a copy of the new Aliyah project!
This new DVD project, "Aliyah: To Welcome the Holiness of Israel," features 10 new Israeli dances with songs by the Israeli, musical group Miqedem, whose lyrics are from the Tenach (the Old Testament). We pray that this new project will bless and encourage you! This new DVD is unique in that it is not for sale - it will be available to those who help support this ministry, in order that we may give them away to bless the Jewish communities at large and believing Israeli communities. With your donation of $36 or greater, receive the new Aliyah dance project! (Now receive the download with your love gift of $18) Thank you for your help.
We strongly believe that we are to influence and make a greater impact within the Jewish communities worldwide. We hope that you will partner with us to restore the holiness of Israeli dance in the Jewish communities, and "To Welcome the Holiness of Israel!"
Thank you, and blessings to you,
Ralph and Mindy Seta