Mindy Seta is a Jewish believer who came to faith in the Messiah of Israel, Yeshua (Jesus of Nazareth), on Rosh Hashanah (the Jewish New Year) 1992. She is the founder of Messianic Dance Camps International and has created twenty~three dance DVD/CD curricula since 2002. For eleven years Mindy attended a Messianic Synagogue in California. She was a dance leader for over 10 years; serving as Dance Director five of those years until January 2003 and after her daughter Chanah Rose was born. She oversaw all aspects of the ministry, as well as leading the dance team in national and international conferences. She also developed the format for the Dance Symposium utilized within the Messianic Jewish Alliance of America and other major conferences nationally. She was Dance Director for the MJAA Southwest Regional Conference for four years.
Mindy is a skilled choreographer, and has choreographed over two-hundred dances that are being utilized in the Messianic movement and elsewhere. She together with her husband Ralph developed the television show, Come Join The Dance (viewable on this site) for God's Learning Channel in 2013. Mindy currently resides in Southern Nevada; hosts dance camps around the country (and world); trains up new dance leaders; and leads dancing tours to Israel in order to meet with the Believers and minister together in the land. Recently, Mindy has been working on a new teaching series dealing with the healing aspects of the dance, as well other aspects of spiritual arsenals used in the battle such as Flags, Tambourine, and Krav Maga. Mindy has been ministering Messianic worship through dance for three decades. She is a Jewish believer in Yeshua her Jewish Messiah, and His Father the God of Israel.
Mindy is currently pursuing her doctrinal studies in Pastoral Care and Counseling, with a focus on Traumatology and Community Dance. Mindy has witnessed first hand how the Lord has used this medium of worship through dance to accomplish His purposes of healing.
Mindy Seta's Testimony Interview on "It's Supernatural" with Sid Roth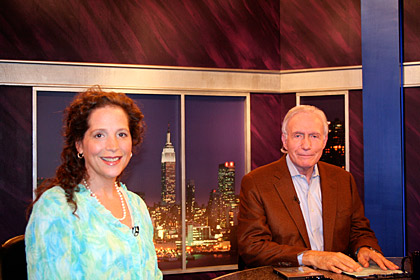 Ralph Seta grew up in an Italian home in Cincinnati Ohio. Dancing has always been a part of his life. In 1988, four years after becoming a believer, God called him to be a part of the Messianic Movement. He began ministering through dance at Beth Messiah Messianic Synagogue in Cincinnati, where he was a part of the dance team and developed dance steps currently being utilized within the movement. Ralph attended a Messianic Synagogue in California for eleven years. He has taught Men's workshops on Davidic dance at congregations as well as conferences in the United States, Israel, Holland, Budapest, Canada and Mexico.

Recently, they have had the honor of touring in seven countries and over eight-hundred fellowships and congregations teaching Messianic worship through dance. Ralph and his lovely wife and children reside in southern Nevada. They are involved in the Messianic Community there when not on tour.