Messianic Dance Camps International presents
Praise, Worship, and Healing
Israel Dance Tour
February 6th - February 17th, 2023
AT CAPACITY - PLEASE CONTACT US FOR AVAILABILITY - THANK YOU!
Worshiping, Praising, Praying, and Dancing Together In The Land!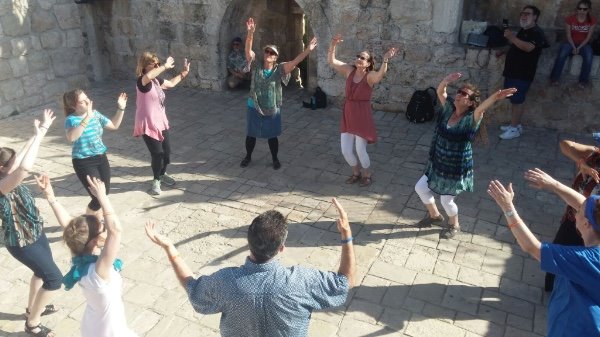 FORMS ON WORD ~ YOU CAN VIEW, DOWNLOAD, AND PRINT
Praise, Worship, and Healing Israel Dance Tour  
Dancing, Touring, & Meeting Together with the
Living Stones (Believers) in The Land
NO VACCINES OR TESTING REQUIRED
Monday, February 6th ~ Friday, February 17th, 2023
12 Days and 9 Nights ~ $2,990. Land Only (Great Price!)
Deposit of $750 is due
[Balance due 12/31/22]
(Per person based on double occupancy ~ Sharing a room with someone. Single occupancy is $900 additional cost).
Join Us!!
We Will Worship with World~Renowned Artists, Pray Together, and Dance Every Day While We Visit the Sights 
And Meet with His People Along the Way!
[You will book your own flight to arrive in Tel Aviv on 2/7/2023
and to depart Tel Aviv late on 2/16/2023, arriving back in the States 2/17/2023]
PLEASE CONTACT TABITHA LOVELL WITH ADOPTION AIRFARE
678-722-5211 ~ LET HER KNOW THAT YOU ARE WITH MINDY'S GROUP
DAILY ITINERARY*
February 6th, 2023, ~ February 17th, 2023


Day 1 (Feb. 6th, 2023 – Monday) – On the way to God's Promised Land! 
Depart from different cities and travel together to Tel Aviv, Israel. We will all try our very best to get to Tel Aviv early afternoon.
Day 2 (Feb. 7th, 2023 – Tuesday) – Arrival in the Holy Land! 
Arrive in the afternoon at Tel Aviv. After the Passport check, and in the carousel area, we will meet Tour Your Roots' representative, who will gather us as a group and take us to the reception hall, where we are going to meet our tour operator and guide, Yosef Rachamim ("Rami") Danieli. We will stay in Tel Aviv for our first night in the Promised Land, having dinner and a good night's sleep!
Day 3 (Feb. 8th, 2023 – Wednesday) - Fellowship with local Living Stones and up to the city of the Great King! 
After our first Israeli breakfast we will meet with local Believers - Avi Mizrachi Ministry Prayer Tower/or Coffee House.  Afternoon, we will drive up to the city of the great King – Jerusalem! We shall start our visit with a very symbolic act – Tree planting in the surrounding mountains of Judea/Jerusalem.  We will get to our hotel and check in the early afternoon (Leonardo Olive Tree, or other hotel – Jerusalem, within a walking distance from the Walled/Old City). After dinner we will enjoy a private concert adjoined with dancing with a dear brother in Yeshua – Shilo Ben Hod.
Day 4 (Feb. 9th, 2023 – Thursday) – Getting acquainted with the history of the city in Yeshua's Time. We will start the day walking through the Arab Market near Jaffa Gate, all the way down to the Jewish Quarter. There we will visit sites such as, the Cardo, the Temple institute, the Southern Steps of the Temple, the Western Wall Tunnels. We will end day visiting Shuk Machane Yehuda. After dinner, we will tentatively meet with Living Stones and hear about their ministry and living life in Jerusalem.
Day 5 (Feb. 10th, 2023 – Friday) – Last Days in Yeshua's Earthly Ministry and His Great Suffering! 
We will start with worshiping Yeshua while seeing the glorious view of the Old City of Jerusalem (Which will take your breath away) from the Mount of Olives. We will walk down to Gethsemane and see its ancient olive trees, remembering Yeshua's prayer for us 'to be one' through dance. We will then visit Yad Vashem - the Holocaust Museum, where we will compare Israel's Messiah sufferings with these of His Chosen People throughout the generations since His First Coming, of which very climax was the Holocaust! Our last visit will be to the Garden Tomb, where we shall see the empty tomb of Yeshua, and remember that there is still a great hope to God's Chosen People! Before or after dinner, people can walk down to the Western Wall to see how the religious Jews are receiving the Sabbath in their special prayers.
Day 6 (Feb. 11th, 2023 – Saturday) – A Sabbath Day of Rest! 
It is Shabbat. We will rest, pray, dance, and these who wish, can take a leisurely walking tour to the Old City and/or its surroundings (like to the Jaffa Gate, Jewish Quarter and others). For those that want to, we hope to also join a Messianic  fellowship for Shabbat Services – depending on their schedule. Havdalah with Elazar and Krina Brandt after dinner in the hotel.
Day 7 (Feb. 12th, 2023 – Sunday): Judea and Samaria, and on to the lowest spot-on Earth! 
Today we are leaving the city of the Great King, and head on to Samaria. There we will visit prophetic sights such as, Shiloh, where the Tent of Meeting was pitched for over 300 years, Mts. Gerizim and Ebal, and Elon Moreh, where God first showed Abraham the Land, and more. We will then head down to the Dead Sea and check in our hotel. We will enjoy a "float" in its mineral-laden waters. Overnight at the Dead Sea.
Day 8 (Feb. 13th, 2023 – Monday) – Fellowship and on to the beautiful Galilee! 
Today we are aiming at the beautiful Galilee region. After Breakfast, we will have a meeting and worship (at the hotel), with "Living Stones" to be announced for a sweet fellowship with music and dance (late check out). On the way we shall visit sites as, Masada, drive by Ein Gedi to Qumran, where the Dead Sea Scrolls were found. Then we will start our drive through the Jordan Valley to the beautiful Galilee and check in our Kibbutz holiday village by the Sea of Galilee Shores.
Day 9 (Feb. 14th, 2023 – Tuesday) – Yeshua's Ministry around the Sea of Galilee. 
We will visit Magdala, the Mountain of Beatitudes, drive by Tabgha to Capernaum, Yeshua's boat, Jordan River for an optional Mikveh, taking a sunset ride on Danny Carmel's boat, "Faith." We will praise Yeshua through dance and song as we sail along Sea of Galilee. In the evening, we will meet with Joshua Aaron for a sweet time of fellowship and dance.
Day 10 (Feb. 15th, 2023 – Wednesday) – Upper Galilee and the Golan Heights. 
Today we will visit the Upper Galilee region. We will visit sites such as, Tel Dan, Caesarea Philippi, then on to the Golan Heights, where we will visit Mt. Bental (overlooking at the Israeli Syrian Ceasefire line/border). We wlll visit and ancient Jewish Viliage (Qatzerin Talmudic Village). In the evening we will meet with Richard and Carolyn Hyde of Heart of G-d Ministry for dance, worship, and dinner.
Day 11 (Feb. 16th, 2023 – Thursday) – Our Final Exciting Day with Many Interesting Visits. Then on our way to the Airport. 
After breakfast we will have yet another time of fellowship, this time with Yariv Goldman and his beautiful ministry. We will drive through Cana to Nazareth, where we shall visit the Nazareth Village (including a meal). Then we will visit Muchraqah on Mt. Carmel (1 King. 18). Next, Tel Megiddo, one of Solomon's ancient chariot cities, for a view of the Jezreel Valley and future sight of the battle of Armageddon. We will continue our drive down to Tel Aviv/Jaffa, where we will have our Fare-Well Dinner, after which we will be driving to the airport for our night flight.
Day 12 (Feb. 17th, 2023 - Friday) Back in the U.S.A, full of joy and wonderful memories of a life changing tour of the Holy Land – By His Grace!
GENERAL INFORMATION:
TOUR PRICE: Land Only Package Deal: $2,990 INCLUDES:
Hotels:  4 Star Hotels accommodations based on double occupancy.  A single room supplementary fee of $900 will be charged for those who desire a single room.
Meals:  Full Israel-style breakfast buffet and dinner daily. Lunch is not included in the package deal price (with exceptions detailed in the itinerary).  Participants should budget a minimum of $10-18 per lunch meal daily. Soft drinks are not provided but may be purchased with your meals and charged to your hotel room.
Tips:  All gratuities and tips have been included in the price!  Extra "Love offerings" for the guide and/or driver are completely at the discretion of the tour participant.
Touring:  All transportation is by a deluxe air-conditioned motor coach.  All site entrance fees are included in the price. Sights added during the course of the tour may require additional fees from the participants.
Payments: Deposit $750 due made payable to: "Messianic Dance Camps International or Mindy Seta" in the form of cashier's or money order. Please mail along with registration form to: MDCI P.O. Box 5117 Pahrump, NV  89041
If you would like to pay by credit or with debit card, there will be a 4% convenience fee added for each transaction. Please call 661-317-0435.
Balance needs to be paid no later than December 31, 2022.
TOUR PRICE DOES NOT INCLUDE:
Flights from the USA to Israel and back!
Passport Application Fees: A valid Passport is required to participate on this tour.  All fees associated with the acquiring of a passport are the sole responsibility of the tour participant.  A PASSPORT IS CONSIDERED NOT VALID IF IT EXPIRES WITHIN SIX MONTHS FROM THE TOUR DEPARTURE DATE!
Trip Cancellation and Medical Insurances:  Insurance to cover trip cancellations or interruptions and health insurance are NOT included and must be purchased from local agents. Please, make sure they cover all aspects regarding Covid-19 and possible changes that might occur due to this crisis. Travel Guard Travel Insurance
Personal Expenses:  Personal expenses such as laundry services, phone calls, contributions for different ministries in Israel and postage are not included.                     
Our Wonderful Guide
Welcome to Tour Your Roots Holy Land Tours and Teaching Ministry. My name is Yosef Rachamim ("Rami") Danieli. I'm born and raised in Israel in a traditional Jewish home. In 1983, I came to believe in Yeshua (Jesus) of Nazareth, as the long-awaited Jewish Messiah and King of Israel. I am married to Gabriela, who is originally from Switzerland. Together we have four children and reside in the beautiful Galilee region.
Since 1994, I have been a certified Israeli tour guide. Since many years I organize and guide customized study tours through the Promised land. I believe that God has entrusted me with the gifts of writing, teaching and preaching. During the last three decades, I have been addressing a variety of subjects related to Israel and the Bible from a Hebrew perspective.
My wife, Gabriela Danieli, is a gifted ceramic artisan, songwriter and worship leader. Gaby has worship CD's available at CD Baby, including "Lovesick", based on Song of Songs. Several songs feature Gabriela on the harp as once again, the sound of the strings of David's harp are resonating over the hills and mountains of Israel.
We believe that God has called us to the nations to restore the Hebraic roots of the Faith and to present Yeshua in His Jewish context. Our heart is to see all Israel saved and for Gentile followers of Messiah to understand the importance of their Hebraic roots, and Israel—especially in these Last Days. Studying Scripture without the Hebraic mindset can lead to misinterpretations and potential misunderstanding of the times and seasons in which we live. Each year, we travel abroad on teaching tours. If you are interested in having us come speak to your group or congregation, please contact us. Yosef also offers various seminars, including: Hebraic roots of the Faith, the Middle East conflict, the Feasts of The Lord, etc.
Please contact us with any questions regarding the tour. 
Ralph and Mindy Seta, M.D.C.I.
PO Box 5117
Pahrump, NV  89041
(661) 317-0435
mindyseta@hotmail.com