Join us in Israel ~ worship through dance and visit the Living Stones of the land!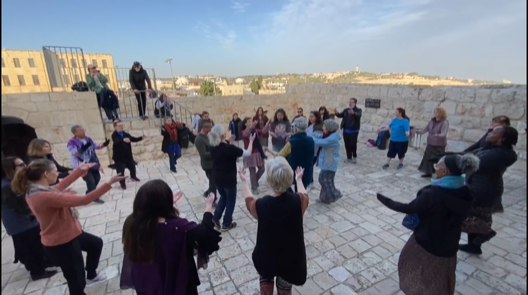 Tour itinerary – March 3 - March 15, 2024
Day 1 (March 3rd, 2024 – Sunday) – On the way to God's Promised Land!
Depart from different cities and travel together to Tel Aviv, Israel. Please, try our very best to get to Tel Aviv mid-afternoon!
Day 2 (March 4th, 2024 – Monday) – Arrival in the Holy Land!
Arrive in the afternoon at Tel Aviv. After the Passport check, and in the carousel area, we will meet our Tour Your Roots' representative, who will gather us as a group and take us to the reception hall, where we are going to meet our tour operator and guide, Yosef Rachamim Danieli. We will stay in Tel Aviv for our first night in the Promised Land. After having dinner and meeting with Living Stones we will have a good night's sleep!
Day 3 (March 5th, 2024 – Tuesday) - Fellowship with local Living Stones and down to the beautiful Galilee region!
After our first Israeli breakfast we will meet with local Believers - Avi Mizrachi Ministry Prayer Tower/or Coffee House. We will then drive to Old Jaffa, where we will begin dealing with the beautiful story of Peter and Cornelius (Act. 10). We shall then drive and visit Caesarea Marittima, where we shall end with this great story and rejoice through dance! Before dinner we have an opportunity to rededicate our lives unto Him through mikveh in the Sea of Galilee. In the evening we will have a special time of worship with local Living Stones
Day 4 (March 6th, 2024 – Wednesday) – Sites which have to do with some future end-time prophecies.
This morning we will visit Mt. Carmel (1 King. 18), and Tel Megiddo, one of Solomon's ancient chariot cities, for a view of the Jezreel Valley and the future sight of Armageddon. We will rejoice before Him and then we will revive our bodies with lunch there. We shall end this day on Mt. Tabor, which is one of the possible (traditional) places for Yeshua's transfiguration. There we will also have a beautiful outlook, viewing the Jezreel Valley (Armageddon). After dinner, for these who wish, we will drive to Yosef's home sweet home, which is near by our hotel, to have some time of fellowship with Gaby his wife, on the Harp (and other musical instruments!). The visit will also include going down to Gaby's pottery studio, to see her beautiful unique art works (some are for sale!)
Day 5 (March 7th, 2024 – Thursday) – Yeshua's Ministry around the Sea of Galilee
Today we will concentrate on places where Yeshua visited, healed, and taught in frequently. We shall start with yet another potential place of His transfiguration – Nimrod Castel on Mt. Hermon. We will continue with Mt. Bental – viewing the Israeli – Syrian cease fire line, while also considering Shaul's conversion on the Read to Damascus. We will then drive back to the Sea of Galilee and visit Yeshua's very "headquarters" – Capernaum. We will end this day with a sunset Boat ride and worship with Danny Carmel.
Day 6 (March 8th, 2024   – Friday) – On the way to the lowest spot-on Earth!
Today we are heading down to the lowest spot-on Earth - the Dead Sea. On the way we will visit Beth Shean, which was a very important city in both Old and New Testaments time. We will then drive by Qumran, in which area the Dead Sea Scrolls were found, and on to Ein Gedi, where we will walk in the beautiful nature reserve all the way to the cave in which David and his men hid from king Saul (1 Sam. 24). In the afternoon we will arrive and check in at our beautiful hotel, by the shores of the Dead Sea, so we can enjoy a nice float on its very special waters, and also enjoy the hotel facilities (spa etc.). After dinner we will spend our Erev Shabbat worshiping the King of Kings through song and dance with special guests.
Day 7 (March 9th, 2024 – Saturday): A Sabbath Day of Rest!
It is Shabbat. We will rest, pray, and those who wish, are welcome to fellowship and study His Word in a meeting room, with some "Living Stones."  
Day 8 (March 10th, 2024 – Sunday) – The Desert Experience 
Today and tomorrow, we are going to study the desert/s in the lives of true followers of the God of Israel! The "Desert Experience" theme will include visiting sites such as, Tel Beersheba (Abraham & Isaac our forefathers – Gen. 21&26), and Ein Avdat nature reserve, where we will consider the Desert wanderings of Israel under Moses, while walking alongside the spring waters, considering their great importance in the Desert, and compare it to what Yeshua said about "living waters" which will flow out of the bally of every true follower of Him. We will end this interesting day with a short "Bedouin Hospitality," not far from the desert city of Arad. This experience will include a light lunch and a short Camel Ride. We shall then make our way back to our beautiful hotel at the shores of the Dead Sea, to enjoy some more time in its facilities and, for these who did not yet experience the float on its waters, this will be their opportunity to do so. After dinner, we will have another opportunity of praise and worship through dance at the Dead Sea!
Day 9 (March 11th, 2024 – Monday) – Up to the city of the Great King!
Today we will check out of our hotel and make our way to Israel's eternal capital – Jerusalem! On the way we will visit the Judean wilderness, where most of David's Psalms were written, and have our very first view of the city from Mt. Scopus. We will then visit a beautiful Model of Jerusalem of Yeshua's time and see some of the Dead Sea Scrolls in the Shrine of the book. In the early afternoon we are going to check in to our hotel, for the very last segment of our tour. We will meet with Living Stones after dinner for a time of worship.
Day 10 (March 12th, 2024 – Tuesday) – Walking through the history of the city in Yeshua's Time
We will start this day with a visit to the City of David, where all the story of Jerusalem began. A visit which will include a 15 century BC (dry) tunnel, and the Pool of Siloam. We will then sit and then dance at the very Southern Steps of the Temple, where Yeshua and His contemporaries sat while studying Scripture. We will end this day at the Western Wall, for some time of prayer, and also for a visit of the Western Wall Tunnels. We will exit the Old City Walls through the Lion's Gate, to meet our driver who will take us back to the hotel. We will worship with local Living Stones after dinner.
Day 11 (March 13th, 2024 – Wednesday) – Walking through the history of the city in Yeshua's Time – Part 2
Today will start at the Jaffa Gate, where we will enter the Rampart Walk. We will walk on the walls of Jerusalem and then rejoice together through dance, all the way to Zion Gate, where we will discuss its recent history, and then use it to enter the Old City once again; this time to the Jewish Quarter, where we will visit sites such as, the Cardo, and the Temple institute. The rest of the day will be dedicated for a last-minute shopping and getting ready for our next day departure.
Day. 12 (March 14th, 2024 – Thursday): Last Days in Yeshua's Earthly Ministry and His Great Suffering! 
Our very last day in God's Promised Land will start with worshiping Yeshua while seeing the glorious view of the Old City of Jerusalem (Which will take your breath away) from the Mount of Olives. We will walk down to Gethsemane and see its ancient olive trees, remembering Yeshua's prophetic prayer, for us 'to be one,' where we will rejoice through dance. Our last visit will be to the Garden Tomb, where we shall see the empty tomb of Yeshua, and remember that there is still a great living hope for all of us! Just before we have our Fare-Well dinner, outside the city, we are going to "leave something behind," in remembrance of a loved one! Yes, we are going to plant a tree in the mountains of Jerusalem! After our nice Fare-Well Dinner, we are going to make our way to the airport for our night flight back home!
Day 13 (March 15th, 2024 – Friday): Safe Arrival back at home – With God's Help!
Back in the U.S.A, full of joy and wonderful memories of a life changing tour of the Holy Land – By His Grace!
As always, itineraries are subject to changes.